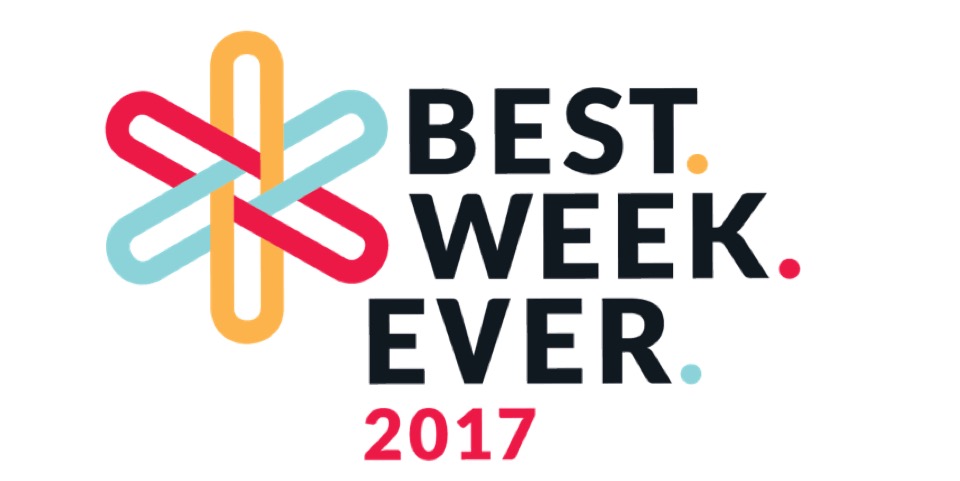 MAY 29 - JUNE 4
​
What are you plans Memorial Day through June 4th? Better clear your calendar- The Best.Week.Ever. is coming. A week-long collection of experiences across South Bend celebrating our culture, progress, and creativity as a community.
LET'S DO THIS, SOUTH BEND!
There will be more than 50 FREE events located throughout the city. The variety of events will encompass athletics, art & culture, community, live music, youth, food & drink and more. You can stay-up-date by downloading the South Bend Events app in on Google Play and iTunes.
There are four amazing ticket packages available to purchase for an upgraded experience.The packages feature discounted entry to exclusive events all week. VPA officials urge interested participants to purchase ticket bundles now as sales will be closed May 19 and are only available in limited quantities.
THERE'S SOMETHING FOR EVERYONE
THROUGHOUT THE CITY!
Best Week Ever Schedule
Monday, May 29
7:30 a.m. – 9:30 a.m.: Western Library Pre-Parade Play Time at Western Branch Public Library, 611 S Lombardy Dr, South Bend, IN 46619
8:15 a.m. – 9:30 a.m.: 94th Annual West Side Memorial Day Parade along Ford St., beginning at Lombardy St. and ending at Olive St.
2:05 p.m. – 4 p.m.: South Bend Cubs Game at Four Winds Field, South Bend, IN 46601
7 p.m. – 9:30 p.m.: Best Pottery Ever: Under the Stars at Studebaker Plaza, Downtown South Bend
Tuesday, May 30
11:30 a.m. – 1 p.m.: Best Lunch Ever at South Bend Museum of Art, 120 S St Joseph St, South Bend, IN 46601
3 p.m. – 5 p.m.: An Afternoon with Author/News Anchor Ann Nyberg: Presented by Morris Performing Arts Center in association with LMG at Morris Performing Arts Center, South Bend, IN 46601
4 p.m. – 8 p.m.: Best Mural Ever at Langlab, 1302 High St, South Bend, IN 46601
5 p.m. – 6 p.m.: Best Home Run Derby Ever at Byers Softball Complex, 1300 S Mayflower Rd, South Bend, IN 46601
5 p.m. – 8 p.m.: Michiana Songwriter Forum atPalais Royale, 105 W Colfax Ave, South Bend, IN 46601
5 p.m. – 10 p.m.: Best Comic-Con Ever at The Well Coffee House, 2410 Mishawaka Ave, South Bend, IN 46615
6 p.m. – 8:30 p.m.: 1st Annual SBCC Belly Burst at Hope Ministries, 432 S Lafayette Blvd, South Bend, IN 46601
6 p.m. – 9:30 p.m.: South Bend Kids Got Talent at Martin Luther King, Jr. Recreation Center, South Bend, IN 46628
Wednesday, May 31
11 a.m. – 2:30 p.m.: 56th Annual Senior Citizens Picnic: Presented by South Bend Venues Parks & Arts and REAL Services at Potawatomi Park, South Greenlawn Avenue, South Bend, IN
11:30 a.m. – 1 p.m.: Addams Family Encore presented by Clay H.S. theater at Studebaker Plaza, Downtown South Bend
11:45 a.m. – 1 p.m.: Best. Rotary Club. Ever. at Century Center, South Bend, IN 46601
4 p.m. – 8 p.m.: Westside Wednesday at Western Ave (Liberty to Camden)
4:30 p.m. – 8 p.m.: Best Market Ever at Purple Porch Co-op, 123 N Hill St, South Bend, IN 46617
5 p.m. – 6 p.m.: Best Home Run Derby Ever at Byers Softball Complex, 1300 S Mayflower Rd, South Bend, IN 46601
7 p.m. – 9 p.m.: The Music Village's Best Jam Ever at Howard Park Ice Rink Center, 219 S St Louis Blvd, South Bend, IN 46617
7 p.m. – 9:30 p.m.: Daniel O'Donnell at the Morris Performing Arts Center at Morris Performing Arts Center, South Bend, IN 46601
7 p.m. – 11 p.m.: Best Progressive Dinner Ever at LaSalle Grille, Tapastrie, Café Navarre, and Woochi
Thursday, June 1
11:45 a.m. – 1:15 p.m.: Best Red Table Plaza Ever at Studebaker Plaza, Downtown South Bend
2:30 p.m. – 6:30 p.m.: Best Picnic Ever: Presented by Riverparks Business Association in conjunction with Nuner Primary Academy at Potawatomi Park, South Greenlawn Avenue, South Bend, IN
3 p.m. – 8 p.m.: Best Week Ever Talent Display: Presented by Morris Performing Arts Center in association with Lampkin Music Group at Jon Hunt Memorial Plaza, South Bend, IN 46601
5 p.m. – 6 p.m.: Best Home Run Derby Ever at Byers Softball Complex, 1300 S Mayflower Rd, South Bend, IN 46601
5 p.m. – 8 p.m.: Best Fitness Class Ever at Howard Park, South Bend, IN 46617
5:30 p.m. – 8 p.m.: Wine into Water atPalais Royale, 105 W Colfax Ave, South Bend, IN 46601
6 p.m. – 8 p.m.: Best Basketball Skills Challenge Ever at Martin Luther King, Jr. Recreation Center, South Bend, IN 46628
6 p.m. – 8 p.m.: Best Moment in Time Ever at The History Museum, 808 W Washington St, South Bend, IN 46601
6 p.m. – 11 p.m.: Seitz & Sounds Open Stage at Seitz Park, South Bend, IN 46617
Friday, June 2
11:45 a.m. – 1:15 p.m.: Fridays by the Fountain at Jon Hunt Memorial Plaza, South Bend, IN 46601
12 p.m. – 10 p.m.: River Lights Music Festival at East Bank Emporium Parking Lot, Seitz Park
12:30 p.m. – 5 p.m.: Best. Office. Ever. at Under the State Theater Marquee, Downtown South Bend
4 p.m. – 8 p.m.: Best. Library. Ever. Truck Rally at St. Joseph County Public Library (Main Branch), South Bend, IN 46601
5 p.m. – 6 p.m.: Best Home Run Derby Ever at Byers Softball Complex, 1300 S Mayflower Rd, South Bend, IN 46601
5 p.m. – 9 p.m.: First Fridays: Kids' Night Out at Downtown South Bend
5 p.m. – 9:30 p.m.: Best Lounge Ever at Jon Hunt Memorial Plaza, South Bend, IN 46601
5:30 p.m. – 7:30 p.m.: East Race Rafting at East Race Waterway, 126 N Niles Ave, South Bend, IN
5:30 p.m. – 8 p.m.: Best Tennis Game Ever at Leeper Tennis Center, 837 N Lafayette Blvd, South Bend, IN 46601
5:30 p.m. – 8 p.m.: ROC Ur Body at Howard Park, South Bend, IN 46617
5:30 p.m. – 9 p.m.: Meet Me on the Island at Century Center, South Bend, IN 46601
6 p.m. – 7 p.m.: Sunburst Friday Family Walk at Downtown South Bend
9:45 p.m. – 10 p.m.: Best Fireworks Ever presented by Barnes and Thornburg at Downtown South Bend
10 p.m. – 12 a.m.: Best Movie Night Ever at Howard Park, South Bend, IN 46617
Saturday, June 3
ALL DAY: Play Your Best Round Ever at Elbel Golf Course, 26595 Auten Rd, South Bend, IN 46628, USA and Erskine Golf Course, 4200 Miami St, South Bend, IN 46614
6:30 a.m. – 10 a.m.: Sunburst Races at University of Notre Dame
10 a.m. – 12 p.m.: Best O'Brien Experience Ever at O'Brien Recreation Center, 321 E Walter St, South Bend, IN 46614
11 a.m. – 3 p.m.: I Scream, You Scream, Ice Cream with Pet Refuge at Pet Refuge, Inc., 4626 S Burnett Dr, South Bend, IN 46614
11 a.m. – 4 p.m.: Bubbles and Suds at Century Center Island
12 p.m. – 5 p.m.: Best Arts on the Race Ever at East Race, North Niles Avenue, South Bend, IN
12 p.m. – 5 p.m.: River Lights Music Festival at East Bank Emporium Parking Lot, Seitz Park
12:30 p.m. – 5 p.m.: East Race Rafting at East Race Waterway, 126 N Niles Ave, South Bend, IN
3 p.m. – 5:30 p.m.: My Sisters Keeper Best Tea Party Ever: Presented by Sigma Gamma Rho Sorority Inc at Potawatomi Conservatories, 2105 Mishawaka Ave, South Bend, IN 46615
5 p.m. – 6 p.m.: Best Home Run Derby Ever at Byers Softball Complex, 1300 S Mayflower Rd, South Bend, IN 46601
7 p.m. – 11 p.m.: So Much for the Afterglow - 20th Anniversary Tour at Four Winds Field
Sunday, June 4
ALL DAY: Play Your Best Round Ever at Elbel Golf Course, 26595 Auten Rd, South Bend, IN 46628, USA and Erskine Golf Course, 4200 Miami St, South Bend, IN 46614
8:30 a.m. – 12 p.m.: River Clean-Up Paddle at St. Patrick's County Park, 50651 Laurel Rd, South Bend, IN 46637
12 p.m. – 5 p.m.: Open South Bend at South Bend, IN
1 p.m. – 5 p.m.: East Race Rafting at East Race Waterway, 126 N Niles Ave, South Bend, IN
5 p.m. – 6:30 p.m.: Interfaith Prayer Service at Howard Park, South Bend, IN 46617
6 p.m. – 10 p.m.: Best Night at the Park Ever at Rum Village Nature Center, 2626 S